Chris Brown mocks Karrueche's Boyfriend, Victor Cruz
It appears Chris Brown feels a certain way towards his Ex-girlfriend Karrueche Tran.
Since he wasn't busy writing a next hit song or recording, he went on to type out some not-so-good words for Tran's boyfriend Victor Cruz, and also left comments on the former NFL player's page too.
After Cruz posted a photo of himself and Karrueche, Brown commented the following:
"Nothing bad or major. UPGRADE HIM SIS. I'll take him around to style him. NOT HATE. He just need some game spirit.
"Peace love and joy. JUST PLEASE UPGRADE YA MAN BOO."
"No shade…just minor."
Even though the comments were almost immediately deleted, there are screenshots of it making rounds on the internet.
See below: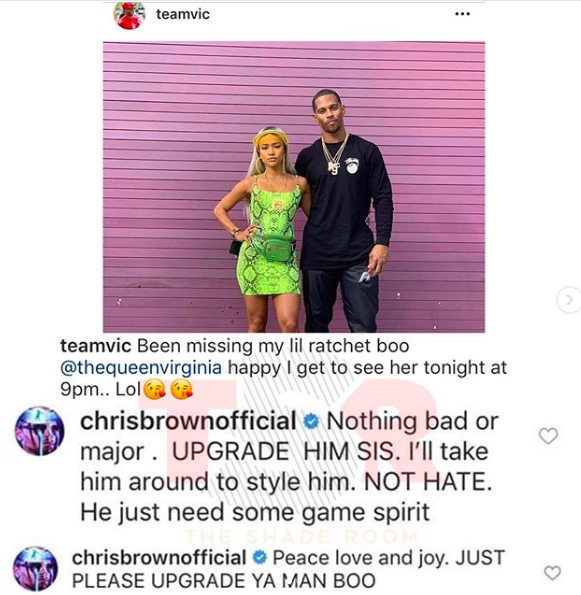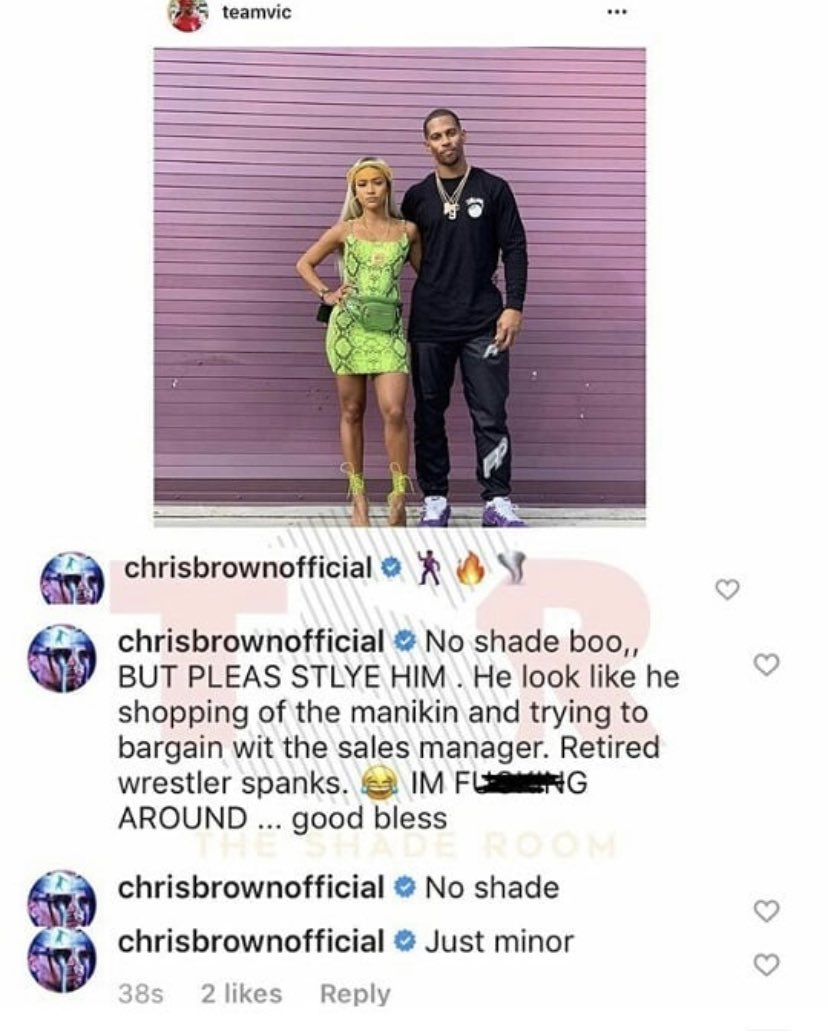 After deleting the comments, he still went on Insta Stories to write: "Is it a sucka move to think about your ex?" and then deleted that one too.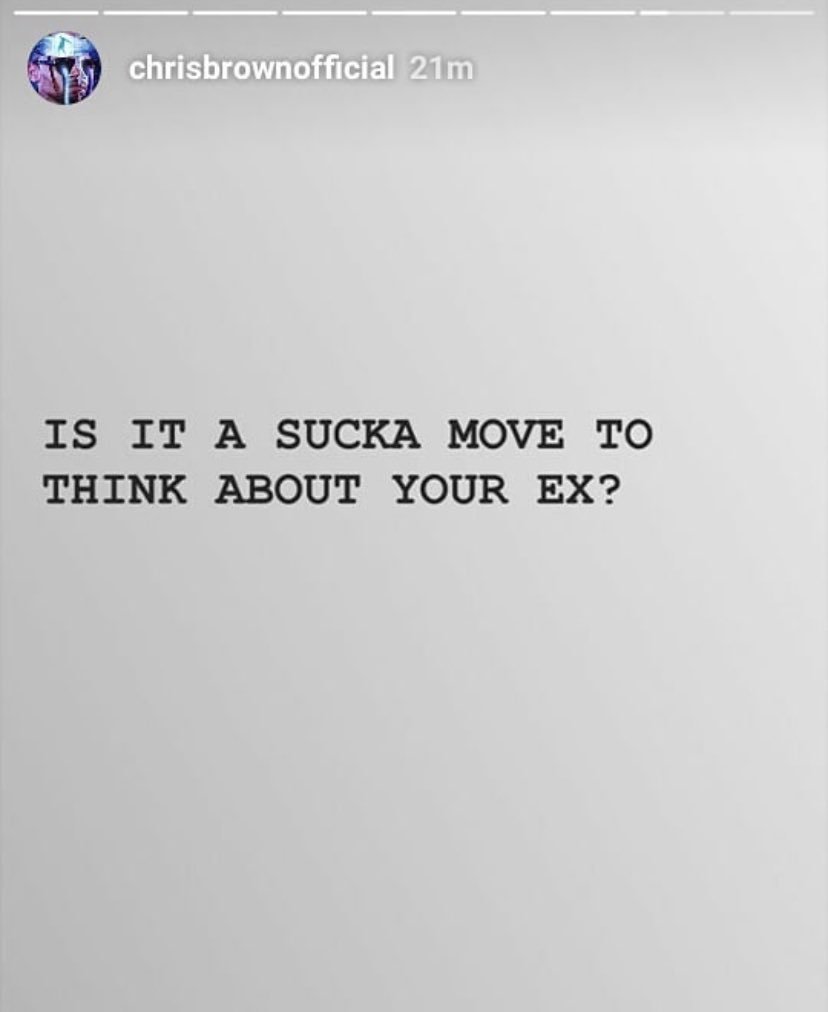 Majek Fashek disappointed over rejection of music videos
Legendary singer, Majekodunmi Fasheke, aka Majek Fashek, has maintained that his downward spiral into the abyss of drug abuse that almost ruined his career wasn't ordinary. He told Sunday Scoop, "I never took drugs. I only took marijuana and alcohol. However, those are things of the past. I still smoke cigarette once in a while but I don't take wine anymore. In life, everybody has ups and downs, and some of these things are not ordinary. My problem wasn't ordinary. There was a particular time I traveled outside the country and immediately I got back to Nigeria, I sensed that something had gone wrong. However, they could not destroy my destiny because God is in control."
The singer also expressed disappointment at Soundcity for refusing to play his music videos. He said, "Uzo (his manager) mesmerised me with that video. He has lived in America for a long time and he has the necessary skill (to shoot good videos). If my videos are not played, then people would think I'm not doing anything but drinking gin and taking drugs. There are a lot of problems in Nigeria today because we are not united, and one of my new songs, Akugbe (Unity), addresses that. If everybody, irrespective of where they are from, join hands and work together, Nigeria would be greater than it ever was.
"In England, we shot a video at Canary Wharf, and when we arrived in Nigeria, we paid Tajudeen Adepetu (CEO of Soundcity) a courtesy visit. When we met after two weeks, he told me the video wasn't up to their standard. I didn't find it funny. Meanwhile, we have lots of songs by 'Yahoo boys' where girls nearly go naked and they sing about mundane things. Are those ones the quality videos? After sometime, we went back to the United States and shot the video for Akugbe on Red camera, which is one of the best cameras for cinematography. When we got back from the United States, we took the video to Soundcity, and they also said it wasn't up to standard. I felt disrespected. That song promotes our culture and I don't think there is anything wrong with it. We should learn to celebrate our own. Which of Bob Marley's videos were shot with Red camera? Soundcity has a question to answer, to say how that video is not up to standard. Look at some of the songs they play on that particular station and compare the standards with mine."
His manager, Uzo Omenka, also reechoed the singer's sentiments. He said, "Majek is a hard-working legend that doesn't deserve that type of treatment. The man has actually paid his dues and he should be respected. Majek was on the David Letterman Show in 1992, long before people like President George Bush and President Barack Obama had the opportunity to be there. He actually produced this whole album. However, the song is played on other stations such as Hip TV and others."
Dismissing insinuations that Majek is living on past glory, Omenka said, "Majek's music is evergreen. If you want to connect with the older generation, you need to play music such as Majek's songs. Till today, if they play songs such as Send down the Rain and So Long, Too Long, everybody is usually excited."
Chipping in, Majek said, "Many of the songs I released in the past were ahead of their time. If you say I'm 'yesterday's artiste', what is the new generation of artistes bringing to the table? We need songs that are actually evergreen and pass meaningful messages. Would you want your daughter listening to the new songs with vulgar messages? Some of these songs contribute to the high level of drug abuse and other vices in the country."
'I still have seven years before I settle down' – BBN Khloe
Big Brother Nigeria alumnus, Khloe, has said she doesn't see anything wrong in being a single mother. In a chat with Sunday Scoop, she said, "I'm not looking forward to having kids anytime soon. I still have about seven years before I settle down. Everything has to be in order. I don't want to bring kids into the world and make them suffer. I want to be a good mother. My career is right in front of me and it needs my attention. However, God's time is the best. I could have a kid next year; you never can tell.
"I wouldn't blame women who have opted to become single mothers and it's something I can do, so far I have peace and happiness. People don't understand that marriage is not the ultimate in life. Some people are married but they are dying inside. A family doesn't necessarily have to consist of a father, mother and children; it could just be a mother and her kids."
Refusing to comment on her recent spat with an Uber driver whom she had accused of being rude to her, Khloe said, "Whenever I do positive things, nobody says anything. But if it's something negative, it goes viral. It makes me feel bad that people cannot just appreciate something good. Nobody called me when I launched my charity, and nobody commends me when I look good in pictures. But people would rush to call me when something is bad and I don't feel comfortable with that. I don't want any negative vibes. Other people might want to milk negative publicity to trend but I am not interested in that."
The former BBN contestant also explained why she started a charity for children. "It is something I had been doing before; I just decided to make it official now. So far, I have been doing everything from my own pocket. I just love to make kids happy and help less privileged children enjoy what their parents cannot provide for them," she said.
'I used to dance at burials and the market' – MC Galaxy
Popular Nigerian singer, MC Galaxy in a recent interview has revealed that before he hit the limelight, he used to dance at burials and even at the market square.
According to the entertainer, he would prefer to remain in music than going back to comedy as comedy does not pay as much as music does.
He said,
"I used to be a comedian and a dancer; I used to dance everywhere, at burials, and even in the market. I have been doing the 'Sekem' dance at comedy clubs before I produced the song," he said.
The singer whose recent social media activities that have generated him backlash and sparked controversy it would be recalled bought a car for ace producer T Spize some few days ago. Speaking about his kind gesture, the "Man Must Wack" crooner disclosed that the producer helped him five years ago when he released his hit song Sekem. He claimed the producer didn't receive full payment for his job and he is appreciating him for his effort.
In the same vein of repaid debts, MC Galaxy two days ago posted on social media photo a cheque of N3million presented to music executive Ubi Franklin. For this, he revealed that Ubi helped him when he had issues with accommodation years back and he is repaying him for his kindness.
Just recently, Nigerian actress, Etinosa Idemudia called out MC Galaxy for reportedly lying about staging the Instagram Live nudity scandal that involved both of them. This came after an interview, MC Galaxy granted Hip TV aired.